I have had this pattern since before i even had a sewing machine! Yes thats right, before!!! I was keen and loved the pattern so i bought it online. I was meaning to make it up in beautiful summer girly colours but i ran out of time and here we are heading into winter...
So i found this fabric on etsy the other week and just fell in love with it! So different from the pinks and girly colours i usually buy the girls and i thought it was gorgeous autumn/winter colours so i bought it!! The fabric is Timeless Treasures Fabric - Apple Family. Here is a pick of my stash!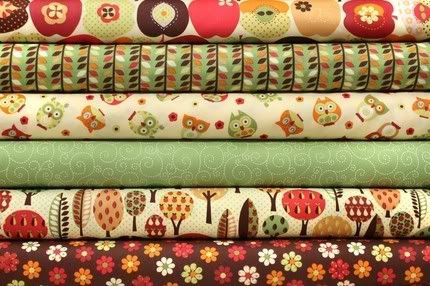 I finished the skirt earlier in the week and decided to applique an owl onto a plain white top! The applique i messed around with a bit and had ditzy moments trying to remember how to do it (i will blame it on the really bad cold im enduring this week!!!) so today i quickly finished the applique as Eleisha had been promised all week she could wear it to Aunty Tracey's birthday lunch today!!! (note to self: dont make promises to 3 year olds!) So i let her wear it but i am yet to stitch around the applique yet but E didnt notice!! :-)
Here are a few very quick pics i took of her...as you can see E was far from wanting to be cooperative in letting me take some nice pics of her and the outfit!!
Am hoping to sew up a jacket to match this outfit...