Just a quick post to show a pic of my new tattoo that i got done on the weekend. It was part of my mothers day present only had to wait a few weeks to get a weekend appointment so hubby could come along!
I wasn't worried about the pain at all but hubby (who got one done about 4 years ago) was trying to freak me out the morning of getting it done, i think he was just worried that i didn't realise it was going to hurt!!! Anyway it did hurt a bit for the outline but nothing like any other pain i can describe and it was bearable...the colouring in part was fine. I watched the whole time (i too also watch whenever i have a blood test etc it doesnt phase me!) and it only took about 15-20 mins all up! Hubby said i was very brave and he couldn't believe i was watching it being done!
I have wanted a tattoo for a while (started talking about it when hubby got his done years ago) but i wasn't exactly sure what i wanted so didnt want to get it til i was. I always knew i wanted it about my girls, and for anyone who knows me and my family knows that from birth we have called Hannah princess, Caitlyn angel and Eleisha butterfly. They know what they are called too and will often correct people who for example call Caitlyn princess etc! I tried to think how i could combine these three things to symbolize my girls but for the life of me i couldn't think how i would like it until i came up the idea below which is simple but means a lot to me!!
Here is what i came up with on the computer which is what i took to the tattooist!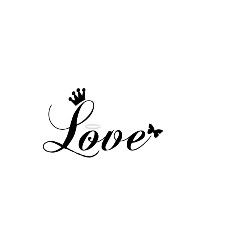 And here is the final product, placed on my left wrist!! (excuse the shine but its still covered in bepanthen!!)