Eleisha has been a little bored to say the least without her sisters around! Today i thought that we could do some baking, kill two birds with one stone so to speak, as i needed to make some after school snacks and keep Eleisha entertained! We had some bananas going old and decided to make banana choc chip muffins ( i have a REALLY fussy 5 year old who barely eats anything so i have to hide fruits and veggies in things that she might like).
Here are some pics from our adventures and i will include the recipe at the end in case anyone is after a really yummy recipe!
I caught Eleisha checking herself out in the reflection of the bowl! She was testing many different expressions, this one is definitely the cheekiest :)
Eleisha and mummy's reflection! (doesn't the bowl look filthy!!!!)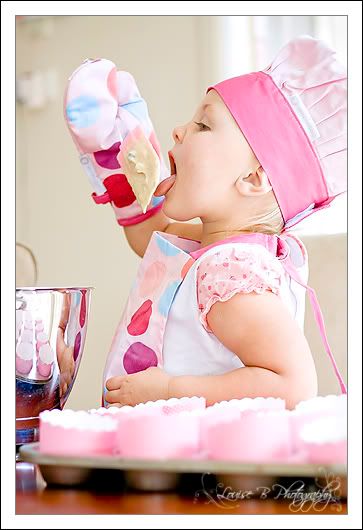 The best part im sure! In fact probably the main reason she loves to bake with mummy!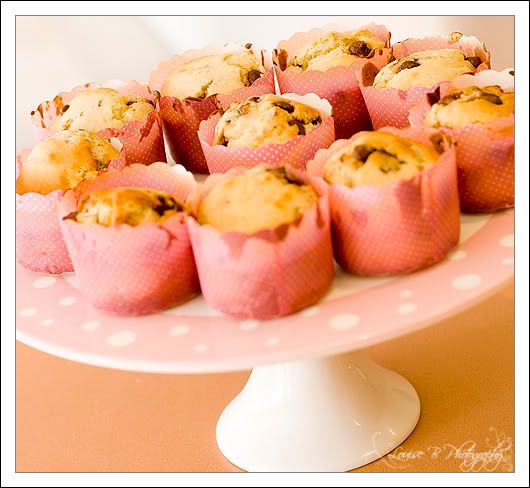 The final product! I love these baking cups from Robert Gordon they look beautiful before you bake in them but once you bake in them they just dont look that great! The only way i can see to get around this is to bake in just a plain white one then sit them in these nice ones! It probably didnt help that a 3 year old was helping put the mixture in them (and on the sides!!!) Oh well they still taste delicious!
Ingredients (makes 12)
60g butter
2 cups self-raising flour
1/2 cup caster sugar
1/2 cup milk
2 eggs
2 ripe bananas, mashed
1 packet of Cadbury Choc Chips (220g)
Preheat oven to 200°C. Line a medium muffin tray (12 sections) with paper cases. Melt butter in a small saucepan or heat-proof bowl in the microwave. Set aside to cool slightly.
Sift flour into a mixing bowl. Stir in sugar. Make a well in the centre of dry ingredients.
Using a whisk, lightly beat milk, eggs and butter in a jug. Add to dry ingredients, along with mashed banana. Using a wooden spoon, gently mix ingredients until just combined. Stir in choc bits. Don't beat the mixture or the muffins will be tough.
Spoon the mixture evenly into the muffin cases. Bake for 20 minutes or until firm on top when lightly touched (get an adult to help with this). Leave in the tray for 3 minutes. Transfer the muffins to a rack to cool.