We LoVe lazy sundays in this house. After a really busy Saturday today we woke up and decided it would be a nothing day! (this generally means that we arent going anywhere!) George had heaps of work to get done today before he heads to Sydney for work in the morning so i decided that the girls and i would do some baking and prepare for the busy week we have ahead of us! Im going to put some recipes and photos here, even if none of my readers are interested in the recipes it makes it easier for me to access them too having them on my blog!
First thing i made today:
Banana, Honey & Cinnamon Muffins
(or to a fussy 5 year old honey muffins!!!)
2 cups self-raising flour
1 tsp baking powder
1/2 tsp bicarbonate of soda
1.5 tsp ground cinnamon
Pinch salt
1/2 cup brown sugar
75g butter, melted
1/2 cup milk
2.5 tbs honey
1 tsp vanilla essence
2 eggs
1.5 cup mashed banana (about 3 bananas)
Preheat oven to 180°C
Melt the butter. Mix in honey, mlk, vanilla, eggs and mashed banana and use a whisk until combined.
Sift in a separate bowl; flour, baking powder, bicarb soda, cinnamon and salt. Mix in brown sugar. Make a well in the flour and pour in the wet mixture. Use your whisk again to mix until combined (do not over mix!!!)
Bake for approx 20 mins.
These taste and SMELL soooo yummy!
Choc-Chip Cookies!
I also decided to make some choc chip cookies, i havent made these in a while but they are soooo easy and the girls LOVE them! I think i originally found this recipe on a tin of sweetened condensed milk!!
180g butter, softened
1/3 cup castor sugar
125ml sweetened condensed milk
1 1/2 cups S-R-Flour
250g choc chips
Pre-heat oven to 180 degrees. Place butter and sugar in a mixing bowl. Using an electric mixer, beat until light and creamy. Beat in the condensed milk. Add the flour and mix on low speed until smooth. Stir in the choc chips until well combined.
Roll about 2 teaspoonfuls of the mixture into balls and place on baking paper lined trays. Press each ball gently with a fork.
Bake for 12-15 mins or until lightly golden. Remove from the oven and allow to cool on trays.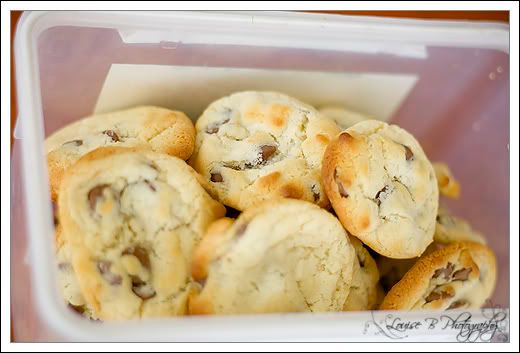 Hannah also borrowed a recipe book from the library the other day at school so that we could do some cooking out of it this weekend. I asked her to pick the thing she wanted to make and she choose "frogs in ponds!!!" I don't think she could have chosen a easier "recipe" but they are looking forward to eating them after dinner tonight!
I have some cheese and bacon bread baking at the moment, another of the girls favourites for their lunch boxes! Might post about that one later on though...
Happy Baking :-)