I got this old chair from my MIL about a month ago. We went to her house to collect some things that she was going to get rid of and i rescued this little old chair from the tip pile and have been meaning to fix it up.
Today, well actually it was about 4pm this afternoon, i got motivated to finally sand it back and repaint it. I also decided to make a cushion and a cushion cover to tie it to the newly painted chair!
This is the end result, quite cute (no way near perfect!) for a couple of hours of my time!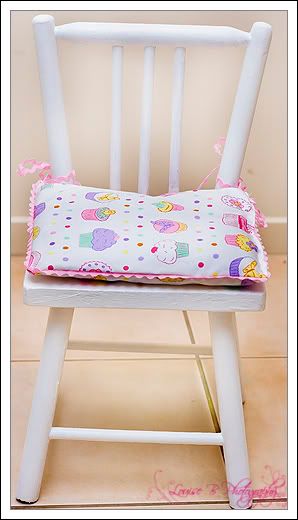 Here is the next project on my list, i have had this cradle since before christmas. I picked it up from an op shop (ich liebe op shops!!) for $7 which i thought was better than the $70 i saw a really cute dolls cradle for in the toy shop! Hopefully i will get to this one too in the next couple of weeks. Any ideas or suggestions let me know :-) ...and yes the dog and butterfly will def be going!